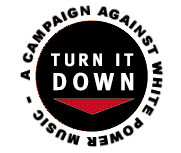 Fifteen years ago, white power music (also known at the time as hate rock) moved from the margins to the cultural mainstream of North America's growing white nationalist movement. 1994 was the year that George Burdi (who has since renounced his neo-Nazi beliefs) incorporated Resistance Records and cornered what was a lucrative and growing market. At its peak, thirty-four music acts were part of the Resistance Records stable, raising over $300,000 in funds for the larger white nationalist movement.
To be sure, things have changed remarkably for white power music in the last fifteen years. Today's white power bands rely less on record labels for publicity and embrace their own DIY (Do It Yourself) ethic, creating profiles on MySpace and music videos on YouTube.
Larger changes in American society, such as the sharing of digital music, have also impacted white power labels and musicians, decreasing their profit margins significantly. White power music distributors also now find themselves in a competition for dollars with mainstream distributors like Amazon.com, CD Baby and iTunes, who are eagerly willing to distribute the soundtrack to the white revolution. Resistance Records itself has ebbed and flowed (mostly ebbed), changed hands (many times), and even has its own more successful competitors (Tightrope and Micetrap Records).
Genres are widening, as well. Oi! and Punk, the traditional music genres of burgeoning young white nationalists in the 90s, have learned to share the stage and the white power music market with growing subgenres like National Socialist Black Metal (NSBM), techno, rockabilly, grindcore and even hip-hop. Hate groups recognize that alienated white youth, their most promising potential recruits, can be found across music subcultures, and they are marketing accordingly.
Perhaps the largest single successful change for white power music in the United States may be that for both its adherents and the broader public, it no longer holds the mystique it once had. Away from the lights and cameras of journalists looking for a story, white power music is quietly reworking its image – an image that may finally carry it into the mainstream. A hip-hop artist uses YouTube to promote blatantly racist tracks, while simultaneously campaigning for a mainstream presidential candidate. A hate group in Pennsylvania successfully books both white power and ostensibly nonpolitical bands for a weekend festival. And week after week, more white power bands can be found on the world's largest online music retailers.
Regardless of changes, one thing has remained constant – music is still one of the most effective vehicles of recruitment for the white nationalists. Bryant Cecchini, owner of Tightrope Records and purveyor of the second Project Schoolyard compilation recruitment vehicle, explained the power of putting the white power message to music concisely: "If you put it to music, they'll listen to it twice before breakfast every day." (Hatewatch)
For music fans, bands, stores, venues and labels, it is time to reinforce the culture of anti-bigotry that already exists. It is not an issue of banning free-speech for the white power music scene, but instead an opportunity to both utilize our own right to speak out and to make informed choices. To assist anyone and everyone who cares enough about music and wants to keep hate groups from hijacking our scenes, the Turn It Down Campaign is releasing an updated list of white power bands active in the United States.
We set out to construct a list of current bands – those that have recorded, toured, or otherwise actively promoted themselves within the past few years. We removed bands from our evolving list for which we could find no trace of activity over the past two or three years. Conversely, we added older bands who we found to have recently regrouped or reunited.
For evidence of recently active bands, we scoured reviews of live shows, white power label and distribution sites, fanzines, band websites, MySpace pages, and messageboards. We saved the evidence we found, and added it to our growing list of links and files that confirm each band as white power. We have compiled lyrics, artwork, interviews, and promotional materials for each band; no band made this list without ample evidence that the band promotes a white power agenda. With the help of our network of volunteer researchers, we checked and rechecked our work.
Our previous list is still important, and it will remain archived on our website here at turnitdown.com. Bands that are no longer active may still be selling merchandise, and they can remain an influence on the white power scene years after they stop playing.
We will continue to update this list from time to time, as new bands surface or old bands resurface. We welcome any feedback, and we encourage you to send us information about bands you think need to be included on our list.
It is our hope that bands, venues, promoters, parents, teachers and most importantly fans can use this list to maintain a better awareness of the potential presence of hate groups in our music scenes. We do not seek to censor these bands; we strongly advocate free speech rights. We also advocate a community's right to take a stand against the spread of hate. More than anything, the Turn It Down Campaign believes in the power of communities – composed of every facet of the music industry and its audiences – as the most effective tool in keeping hate out of our scenes.
WWW.TURNITDOWN.COM
WWW.MYSPACE.COM/TURNITDOWNNOW
CENTER FOR NEW COMMUNITY
WWW.NEWCOMM.ORG