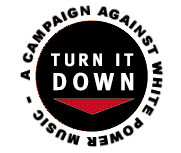 Turn It Down is youth, bands, parents, teachers, and friends in the record industry speaking out, standing up, and turning down the sounds of hate.
Thousands of young people and hundreds of bands, record labels, distributors, pressing facilities, and booking agents have joined to work against the spread of hatred.
White power music has become the most significant recruiting tool for organized bigots across the globe. It has succeeded in infiltrating numerous youth subcultures, transforming healthy youth rebellion into hardcore white supremacy. The Turn It Down Campaign seeks not to demonize all youth culture, but to create a culture that is immune to the hatred and violence that white power music represents by teaming with young people, parents and teachers, and the record industry.
At the bottom of this page you will find guides for parents, teachers, bands, the record industry, and youth on how to use this site. You can hear young people telling their stories of dealing with bigotry, listen to anti-racist music, and learn what you can do and how you can get involved - right here on turnitdown.com.