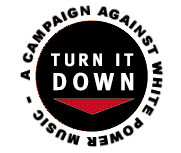 Turn It Down is youth, bands, parents, teachers, and friends in the record industry speaking out, standing up, and turning down the sounds of hate.
Thousands of young people and hundreds of bands, record labels, distributors, pressing facilities, and booking agents have joined to work against the spread of hatred.
Turn It Down is a project of the Center for New Community. Please visit CNC's blog, Imagine 2050, to learn more.
Read more...
| | | | | | |
| --- | --- | --- | --- | --- | --- |
| Turn It Down White Power Band Map | | | | | |
Download a PDF of the map here.
Almost twenty years ago, white nationalist music (aka hate rock or white power music) moved from the margins to the cultural mainstream of America. 1994 was the year that George Burdi (who has since renounced his neo-Nazi beliefs) incorporated Resistance Records and cornered what was a lucrative and growing market. At its peak, thirty-four music acts were part of the Resistance Records stable, raising over $300,000 for the larger white nationalist movement.
Things have changed remarkably since then. Today's white power bands rely less on record labels for publicity and embrace a do-it-yourself ethic, creating profiles on Facebook and MySpace, and posting music videos on YouTube.
Read more...
| | | | | | |
| --- | --- | --- | --- | --- | --- |
| Turn It Down Resource Kit | | | | | |
We are excited to announce the online release of the Turn It Down Resource Kit, a first-ever practical manual for responding to hate music with sections for youth, parents, teachers, administrators, and the record industry.
The Turn It Down Resource Kit is your guide to effectively and creatively respond to white power music.
The book draws upon of hundreds of interviews and decades of experience to help craft a unique 'Do-It-Yourself' handbook on countering bigotry.
Please take a look at our information section to download the entire book, or to select from various sections of the report.
We hope you enjoy it. Please let us know what you think.
| | | | | | |
| --- | --- | --- | --- | --- | --- |
| Turn It Down CD-ROM Released! | | | | | |
White power music is the most effective tool that organized bigots have. It recruits new adherents, generates funds, and acts as a motivator for violence and intimidation.
Everyone has a role to play in halting the spread of white power music. The Center for New Community's newest resource provides you with the tools and information you need to halt the growth of hate rock. The Turn It Down CD-ROM includes the Center's critically acclaimed Soundtracks to the White Revolution – everything you ever wanted to know about white power music - as well as its sequel the Turn It Down Resource Kit – a D.I.Y. guide on responding to white power music with sections for teachers, parents, the record industry, and youth.